HELPING THE AGING WORKFORCE WITH PHYSICAL THERAPY

Helping The Aging Workforce With Physical Therapy
by ACE Physical Therapy and Sports Medicine Institute
Tid Bits of Info.
Injured workers 55 years or older lost on average twice as many days from work as their younger co-workers.
People over the age of 65 are the fastest growing age group.
It is projected that by 2022 more than 30% of the 65-74 year old population will be part of the workforce.
At least 10,000 people per year will turn 65 in the US for the next 15 years.
See a Physical Therapist quickly in the event of an injury.
As our population ages, our workforce is also aging. More and more people choose not to retire or end up returning to the workplace after retirement. Financial security, health insurance, and the need for social engagement are some of the many reasons why people choose to work longer. Older employees can face great health risks in the work environment, so it is important to provide proper training and support.
As we age, every system within our bodies is impacted. "Seniors" often face a variety of age related challenges like high blood pressure, peripheral artery disease, diabetes, obesity, decreased strength and flexibility, osteoporosis and vision, hearing and memory, and more. The decline in these systems can predispose someone to an injury and slower recovery time.
If senior employees do suffer an injury or an illness, they will typically take long to recover. Unfortunately, these injuries can lead to other ailments that further inhibit the healing capabilities and often times the injuries occur in a person that has many co-morbidities that can limit their ability to heal quickly.
When hiring senior adults, employers should be conscientious and train them extensively in the skills that are required for the job. A sound exercise program can play a key role in preventing injuries and maintaining a healthy workplace. Physical Therapists are well trained in designing exercise routines that can help any population prevent an injury and live a healthier, more active lifestyle.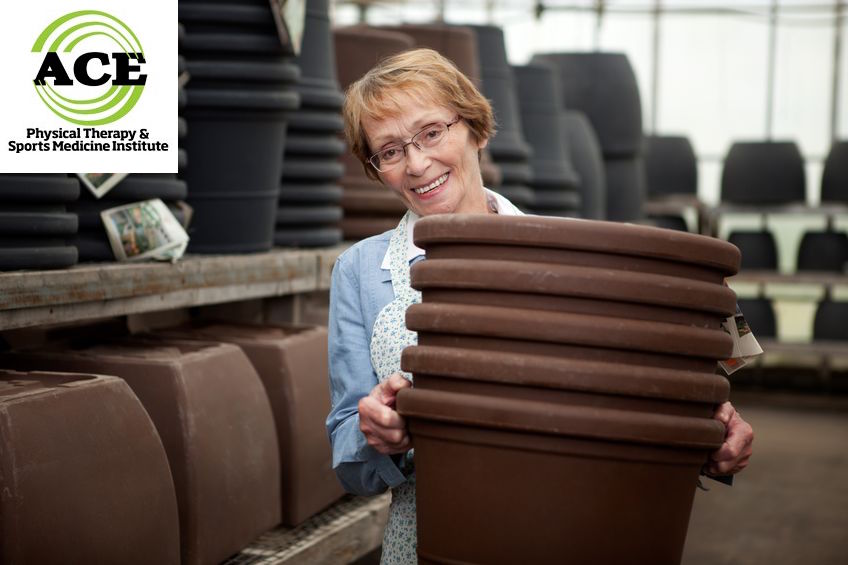 A well-designed exercise routine that is performed consistently can help to reduce many aspects of cardiovascular disease and through strength gains and weight loss the musculoskeletal system can also benefit. Gains in strength, endurance and flexibility can help to reduce the effects of aging. A well-conditioned "senior" employee will be able to produce at a higher level and achieve the goals of the job.
In the event of an injury, it has been shown that early intervention with Physical Therapy can reduce the long-term impacts. Consult your Physical Therapists for insight on fall prevention programs, office and job ergonomics and education on proper lifting techniques that will help to prevent injuries. The programs might include an on-site visit or an extensive interview to direct the proper steps to take to avoid an injury while on the job.
Physical Therapists are licensed professionals and entry level healthcare providers. One can visit a Physical Therapist for evaluation and treatment without going to their doctor first. The Physical Therapist will perform an extensive evaluation and prescribe a treatment protocol that will help to heal the injury site or help to prevent an injury from occurring.
The aging workforce poses special problems in the workforce. With proper planning, education, training and physical conditioning a lot of these issues can be avoided and keep everyone productive.
Read more articles on our main website blog at: ACE-pt.org/blog
Vist our main website at www.ACE-pt.org